The Mediterranean diet has become increasingly popular in recent years due to its many health benefits. This diet focuses on consuming fresh and whole foods, with an emphasis on fruits, vegetables, legumes, and healthy fats. In this article, we will discuss some delicious and healthy Mediterranean diet recipes that you can easily make at home.
Greek Salad
Greek salad is a classic Mediterranean dish that is both delicious and healthy. It is made with fresh vegetables, such as cucumbers, tomatoes, and bell peppers, along with olives and feta cheese. To make this salad, start by chopping up your vegetables and placing them in a large bowl. Add in some sliced red onion, olives, and crumbled feta cheese. Then, mix together some olive oil, lemon juice, garlic, and oregano to make a simple dressing. Pour the dressing over the salad and toss everything together until well combined.
Roasted Salmon with Lemon and Dill
Seafood is a staple of the Mediterranean diet, and this roasted salmon recipe is a great way to incorporate it into your meals. To make this dish, preheat your oven to 400°F and line a baking sheet with parchment paper. Then, place your salmon fillets on the baking sheet and season them with salt, pepper, and fresh dill. Drizzle some olive oil and lemon juice over the salmon, and bake in the oven for about 12-15 minutes, or until the salmon is cooked through and flaky.
Chickpea and Spinach Stew
Chickpeas are a great source of protein and fiber, making them a perfect addition to any Mediterranean-inspired meal. To make this stew, start by sautéing some onion and garlic in a large pot. Add in some chopped tomatoes, vegetable broth, and spices, such as cumin, paprika, and turmeric. Then, add in your chickpeas and let everything simmer for about 10 minutes. Finally, add in some fresh spinach and let it wilt in the stew for a few minutes before serving.
Quinoa Tabbouleh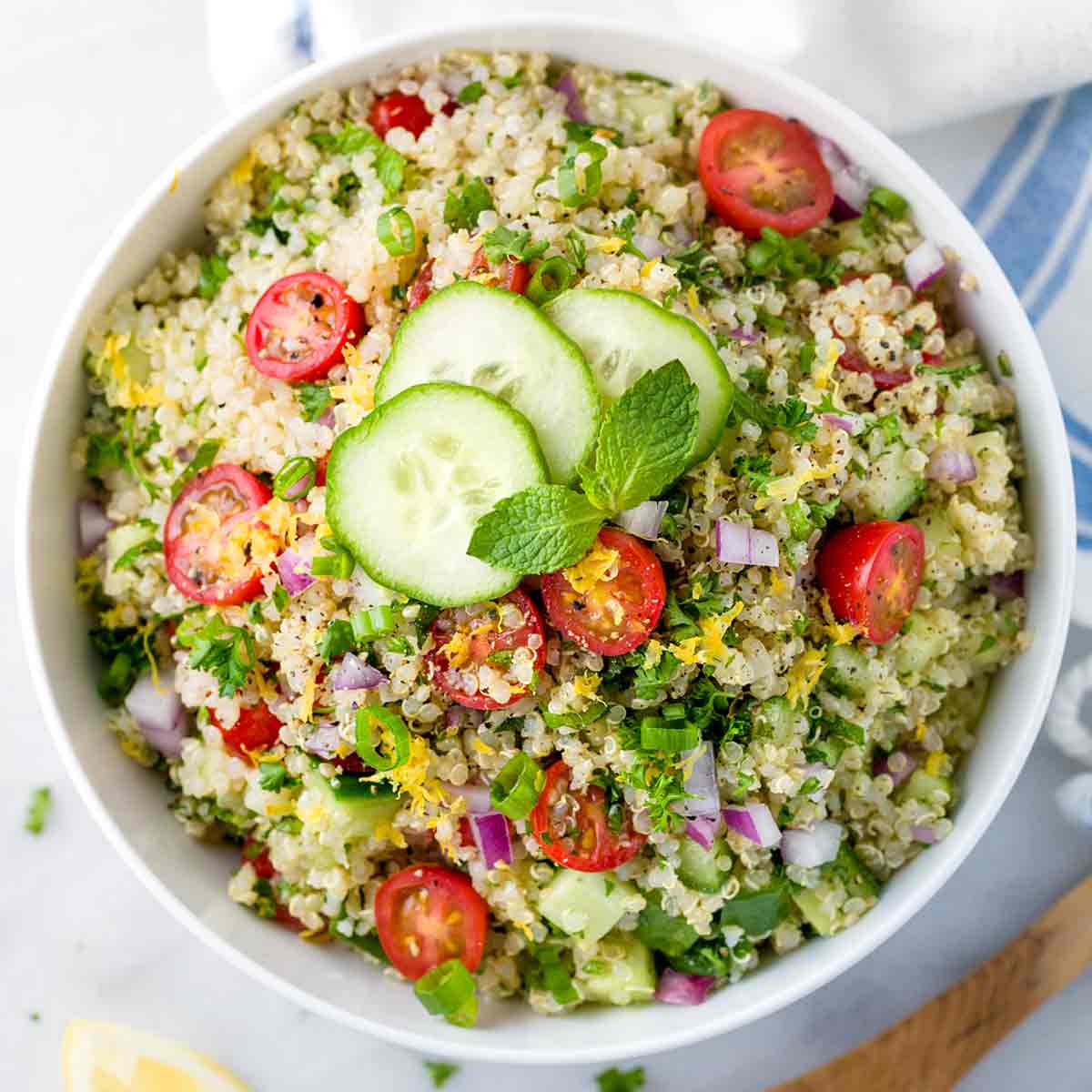 Tabbouleh is a popular Middle Eastern salad that is made with bulgur wheat, parsley, tomatoes, and mint. This version uses quinoa instead of bulgur wheat to make it gluten-free. Start by cooking your quinoa according to the package instructions. Then, chop up some fresh parsley, mint, and tomatoes, and mix them together with the quinoa. Drizzle some olive oil and lemon juice over the salad, and season with salt and pepper to taste.
Grilled Vegetables with Balsamic Glaze
Grilled vegetables are a delicious and healthy side dish that can be enjoyed all year round. To make this recipe, start by slicing up your favorite vegetables, such as zucchini, eggplant, and bell peppers. Brush them with some olive oil and season with salt and pepper. Then, grill the vegetables until they are tender and slightly charred. Finally, drizzle some balsamic glaze over the top of the vegetables before serving.
Lemon Garlic Shrimp Skewers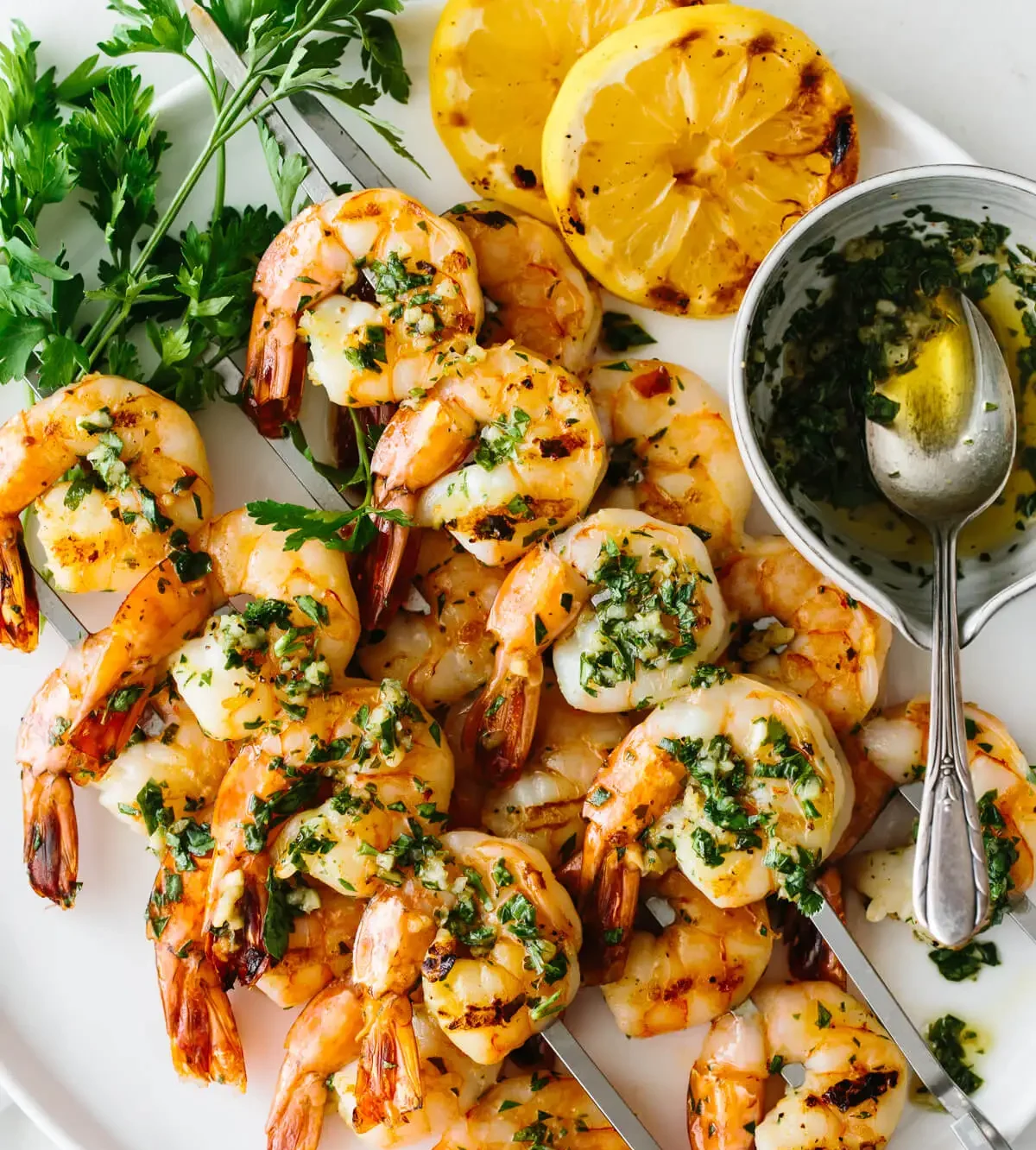 Shrimp is another great source of protein that is commonly eaten in Mediterranean cuisine. To make this recipe, start by marinating your shrimp in some olive oil, lemon juice, garlic, and spices, such as cumin and smoked paprika. Then, skewer the shrimp and grill them until they are pink and slightly charred. Serve the skewers with a side of fresh vegetables or a salad.
The Conclusion
The Mediterranean diet is a healthy and delicious way of eating that is based on whole foods, such as fruits, vegetables, whole grains, nuts, and seafood. By incorporating these foods into your meals, you can enjoy a variety of health benefits, such as improved heart health, weight loss, and a reduced risk of chronic diseases.
There are many different Mediterranean diet recipes that you can try, such as salads, seafood dishes, and vegetable-based dishes. By using fresh and flavorful ingredients, you can create meals that are both nutritious and delicious.
Incorporating more Mediterranean-inspired dishes into your diet doesn't have to be complicated or time-consuming. With a little bit of planning and creativity, you can enjoy the many health benefits of the Mediterranean diet without sacrificing flavor or enjoyment.